JavaScript has currently been disabled in your browser. For an optimum experience, please enable JavaScript.
Loader Attachment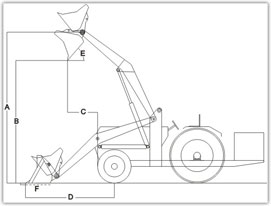 Loader attachment used with a medium range tractor of 38 to 45 HP capacity. This is a useful attachment for medium duty work in agriculture, construction, white coal and soil industries etc Industries. The loader attachment is medium in weight.
Beside loader you can also attach Agriculture item like Plough, Tanker, Trolley or other Implement.
Max. Height: 10 Feet.
Max. loading Capacity: 500 Kg.
Cycle Time: 40 Sec.
Operational Parameters
A
Maximum Pin Ht.
3050 mm
B
Maximum Dumping Ht.
2250 mm
C
Ground Reach At Dumping
459 mm
D
Ground Reach At Loading
1850 mm
E
Bucket Dumping Angle
80°
F
Dig Ht.
50 mm
Technical Specifications
Bucket Capacity
0.38 M³
Operating Load
600 Kgs
Breakout Force
8000 mm
Bucket Width
1520 mm
Timing Performance
Raise
9 Seconds
Dump
3 Seconds
Lower
5 Seconds
Application
Construction Field
Cotton Industries
Cement Industries
Floor Tiles Industries
Stone Crusher Industries
Soil & Other Raw Material
Sugar Industries
& Many More...
---
Quick Inquiry