JavaScript has currently been disabled in your browser. For an optimum experience, please enable JavaScript.
Tractor Mounted Mini Loader with Hydraulic Multi Plough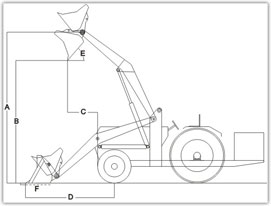 Loader attachment used with a medium range tractor of 38 to 45 HP capacity. This is a useful attachment for medium duty work in agriculture, construction, white coal and soil industries etc Industries. The loader attachment is medium in weight.
Max. Height: 10 Feet.
Max. loading Capacity: 500 Kg.
Cycle Time: 40 Sec.
Operational Parameters
A
Maximum Pin Ht.
3050 mm
B
Maximum Dumping Ht.
2250 mm
C
Ground Reach At Dumping
459 mm
D
Ground Reach At Loading
1850 mm
E
Bucket Dumping Angle
80°
F
Dig Ht.
50 mm
Technical Specifications
Bucket Capacity
0.38 M³
Operating Load
600 Kg.
Breakout Force
8000 mm
Bucket Width
1520 mm
Timing Performance
Raise
9 Seconds
Dump
3 Seconds
Lower
5 Seconds
---
Quick Inquiry